PhD in Interdiscplinary Studies
Class of 2018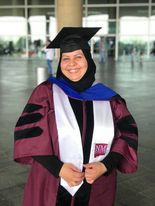 Why did you choose NMSU Graduate School?
Because of the school's reputation and I heard about how the community is friendly and welcoming.
What is your current position?
Assistant professor and Dean's Assistant for Students Affairs and Quality Assurance-IT College at Al al-Bayt University
What is your biggest accomplishment?
My biggest accomplishment is being a Co-Investigator in the personal protective equipment (PPE) project. The People's PPE, led by academics at the University of Sheffield and London College of Fashion, University of the Arts London (UAL), with researchers from Al Albayt University and the University of Petra, has received £766,675 from UK Research and Innovation through the UK government's Global Challenges Research Fund (GCRF) and the Newton Fund.
How did NMSU prepare you for your field?
NMSU taught me how to work well with interdisciplinary teams, as well as how to lead such groups. It prepared me to be a good teacher through the teaching academy and OCIP programs.
What did you enjoy most about NMSU?
I enjoyed the quiet surrounding, friendly people, and the challenging teaching style in the computer science department.